Transponder Key Replacement & Programming
State-of-the-Art Transponder Techniques & Tools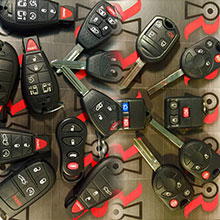 In today's digital world, it is no surprise that the automotive industry has adopted advanced technology. Although key-less entry technology is beginning to take a major hold on the market, transponder keys are still one of the most popular automotive entry devices used today.
No longer a luxury, a properly working transponder key is an imperative tool for any driver and is something people rely heavily on for entry into any newer model car.
At Redlands Lock & Key, we offer affordable transponder key replacement, repair, and reprogramming options that are just as innovative as the technology itself.
Skip the Dealership With Car Key Replacement Services
When you lose your keys, it's a big hassle — and also a security hazard. It's even more of a hassle when it comes to lost car keys because then you don't even have a way to get into your vehicle and drive to a nearby locksmith shop for help. This is where the Redlands Lock & Key team is here to help. Our mobile locksmiths can bring the key cutting services to you, and yes, that includes duplicating or replacing car keys. 
It makes sense that your local locksmiths can copy or replace a standard, non-electronic car key. After all, it's essentially the same process as key cutting to duplicate your house keys. But technology has gone through a lot of growth over the last couple of decades, and car keys have gotten smarter than ever. If you've got a transponder key (the type that is a manual key with an electronic key fob attached) or other electronic car key, you may assume that you need to go to your local car dealer in order to get that electronic component repaired or replaced. That's not the case! Here at Redlands Lock & Key, we keep up with all the changes in car key technology so we can provide car key replacement and repair services. No more waiting at your local dealership — which typically means waiting for regular business hours — just to get a new car key. Instead, call our mobile locksmith team for expedient, experienced help in Redlands and across the Inland Empire. 
Car Key Replacement Emergencies
Losing or breaking a car key doesn't always happen during regular business hours. Even if you have a spare key at home and someone who can fetch it for you, that's still a lot of hassle to handle. And, if the key broke off in the lock, you'll need a way to get the pieces out, even if you can get to your spare. Don't worry about waiting for regular business hours to get your car key replaced or repaired; instead, call your local locksmiths. An emergency locksmith can come to you, extract the broken key pieces from the lock, and replace your car key on the spot. We've even got the appropriate tools to repair and reprogram electronic car keys. That's a lot easier than waiting all weekend for your local dealership to open, just for them to tell you they need to order some parts! 
Rekeying and Car Key Replacement
Any time you lose your keys, we consider this a locksmith emergency for a couple of reasons. First off, losing your keys means you likely don't have access to your vehicle. Second of all, lost keys can mean that someone else has picked them up and may be looking for an opportunity to perpetuate a break-in or theft. Don't let your car be a target for thieves, just because you misplaced your keys. If your keys are long gone, connect with our emergency locksmith team. We can come provide quick key cutting services, but we can also rekey your car locks and ignition so your old keys won't open the car anymore. That way, your vehicle is a bit safer, even if someone does try to use those lost keys to their advantage. 
Skip the wait and the expense of car key replacement or repairs from your local dealership. Instead, come by our Redlands locksmith shop, or call our mobile locksmith team for key cutting help that comes to you! Connect with Redlands Lock & Key today for help in Redlands and around the Inland Empire. 
---